Oshiomhole Faces Final Battle before Election, As Twelve Top Leaders of Apc Challenge Him And Tinubu
The National chairman of all progressive congress Adams oshiomole, is facing another battle with 12 top leaders of APC, who are challenging the powers he has to take certain decisions without the national working committee's approval. They are equally alleging the national leader of APC bola Ahmed tinubu, that he is the backbone behind the actions of the National chairman Adams oshiomole, that is the reason for his silence, over them matters concerning Edo state primary elections.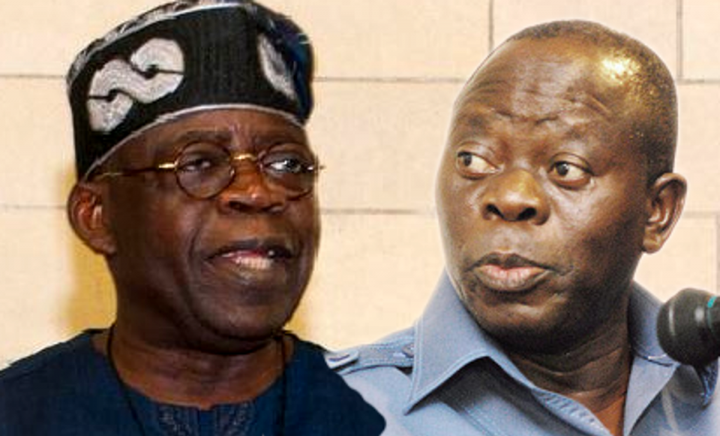 View pictures in App save up to 80% data.


The12 members include Alh. Salihu Mustapha, Chief Polycap Udah, Captain Mohammed Bala Jibrin, Ray Morphy, Alh. Umar Kachalla Zubair and Dr. Sylvanus Amechi. Other signatories were Alh. Shaba Emangi, Chief Emeka Enechi, Hon. Charles Idahosa, Hon. Mohammed Aboki Mahmud, Prince Mackor Shaka Momodu and Alh. Yesufu Omonemi.

These leader accused Bola Tinubu of keeping silent while oshiomhole continues to abuse his office, meaning that he is supporting his actions.

They accused oshiomhole of abuse of office, because he is working without other members of the national working committee.

Secondly , he had become one man squad he now takes decision that belong to the entire Apc.

That oshiomhole, back stabbed the entire national working committee when he met first with INEC and discussed the mode of Primary elections before convening the meeting on the decision which he has taken already.

He refused to convene the meeting of the National Executive Committee of APC to consider critical decisions on Edo state primary election.

He is using a Pdp Loyalist , who did support president Buhari reelection , who has a case with the Efcc on public fund mismanagement to fight an incumbent Governor.

According to them, Apc is our party we will not allow one man to decide for everybody, we must fight hard to restore Apc to sanity.