Charles Awuzie Reveals The Reason Why Busola Dakolo Lost Her First Case Against Biodun Fatoyinbo
opera.com 7h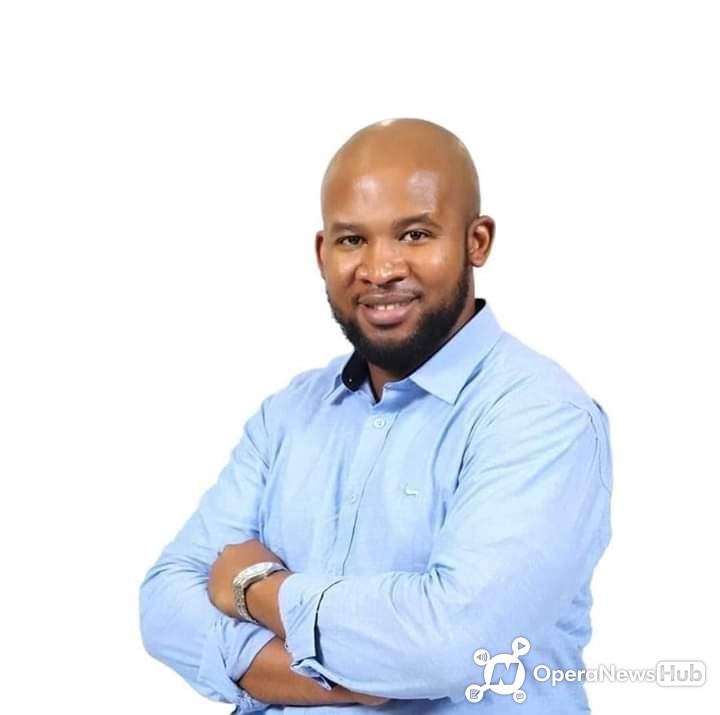 Charles Awuzie is a Cyber-Security Expert, CEO of Gemsbok Group, who lives in South Africa.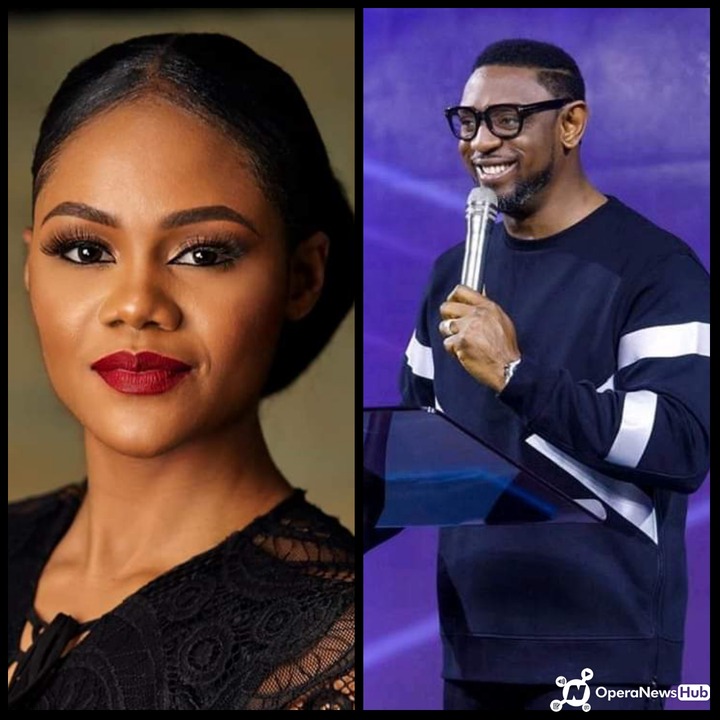 He took to his verified Facebook page to reveal the reason why Busola Dakolo lost her first case to Pastor Biodun Fatoyinbo, who is the Lead Pastor of COZA Church in Abuja, Nigeria.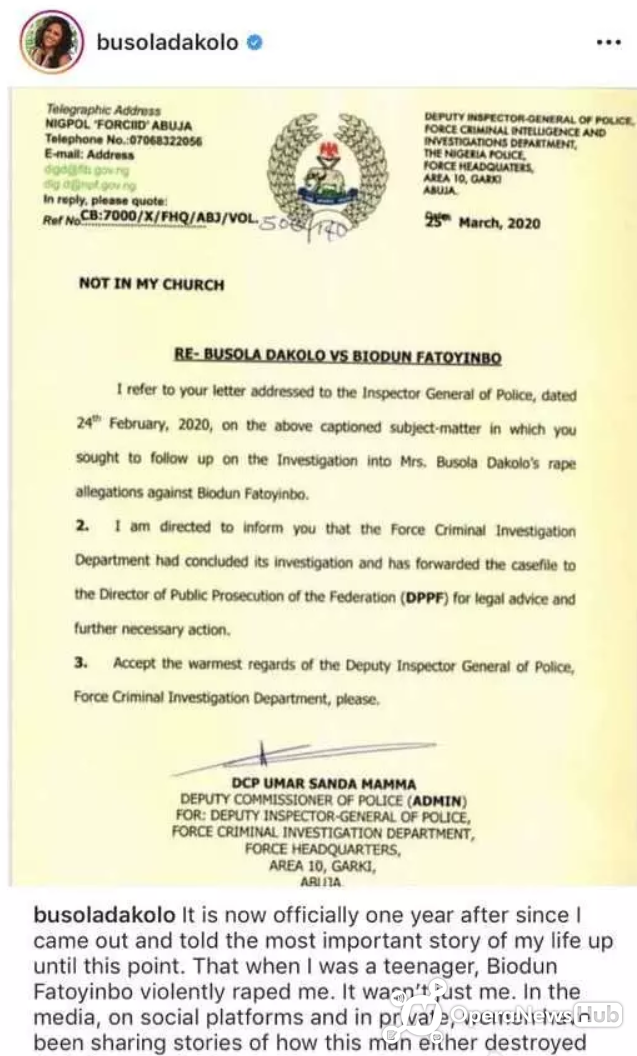 Few days ago Busola Dakolo released a statrment, "It is now officially one year after since I came out and told the most important story of my life up until this point. That when I was a teenager, Biodun Fatoyinbo violently raped me. It wasn't just me. In the media, on social platforms and in private, women have been sharing stories of how this man destroyed their lives."
Busola wrotes a letter to the Inspector of Police on 24th February 2020, to follow up on the investigation into her rape allegations against Biodun Fatoyinbo.
It has been made known by the Force Criminal Investigation Department has concluded their investigation and forwarded the case file to the Director of Public Prosecution of the Federation (DPPF), for legal advice and further necessary action.
While we wait for the trutg to be unveiled, Charles Awuzie has took to his verified Facebook page to reveal how Busola Dakolo lost her first case to Biodun Fatoyinbo.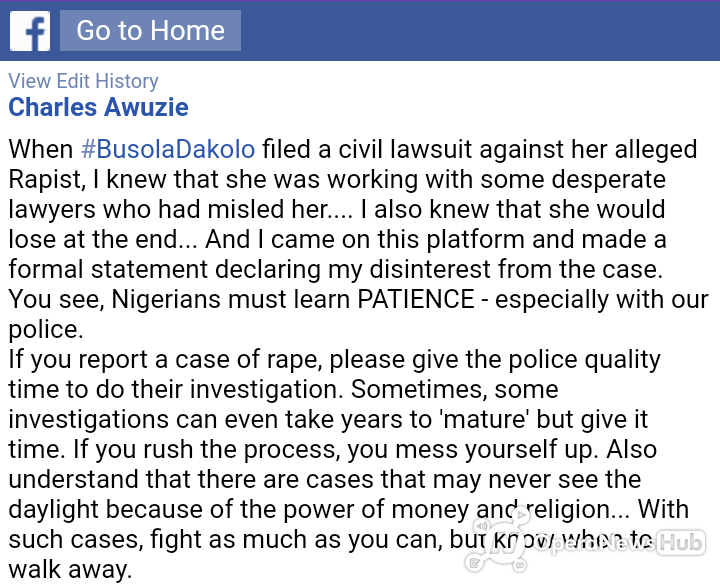 When Busola Dakolo filed a civil lawsuit against her alleged rapist, I knew that she was working with some desperate lawyers who had misled her.
I also knew that she would lose at the end, and I came on this platform and made a formal statement declaring my disinterest from the case.
You see, Nigerians must learn PATIENCE – especially with our police.
If you report a case of rape, please give the police quality time to do their investigation. Sometimes, some investigations can even take years to 'mature' but give it time. If you rush the process, you mess yourself up.
Also understand that there are cases that may never see the daylight because of the power of money and religion. With such cases, fight as much as you can, but know when to walk away.
Charles also shares his experience about a woman who some prophets used to fake miracles.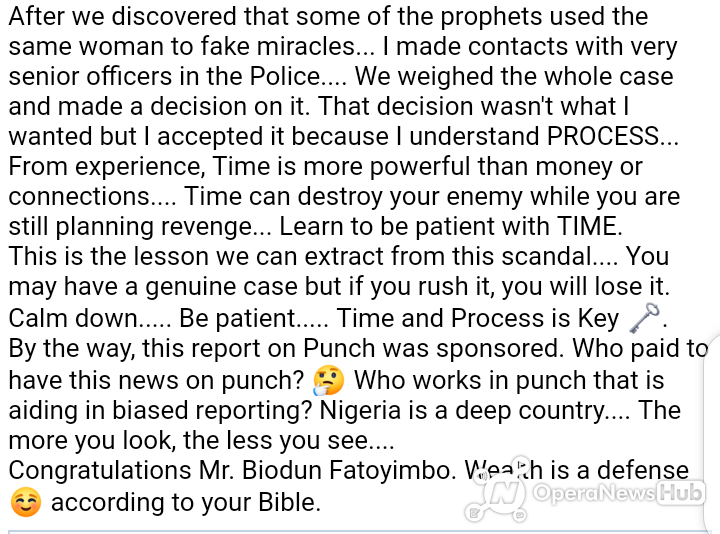 After we discovered that some of the prophets used a certain woman to fake miracles. I made contacts with a very senior officers in the Police. We weighed the whole case and made a decision on it.
That decision wasn't what I wanted but I accepted it because I understand PROCESS, from experience, time is more powerful than money or connections. Time can destroy your enemy while you are still planning revenge. Learn to be patient with TIME.
This is the lesson we can extract from this scandal. You may have a genuine case but if you rush it, you will lose it. Calm down. Be patient. Time and process is key.
By the way, this report on Punch was sponsored. Who paid to have this news on punch? Who works in punch that is aiding in biased reporting? Nigeria is a deep country. The more you look, the less you see.
Congratulations Mr. Biodun Fatoyimbo. Wealth is a defense according to your Bible.