From A Fried Rice Seller To A Politician – Check Out His Biography, Age, schools, And More – BBC Ghana Reports
thebbcghana.com 1d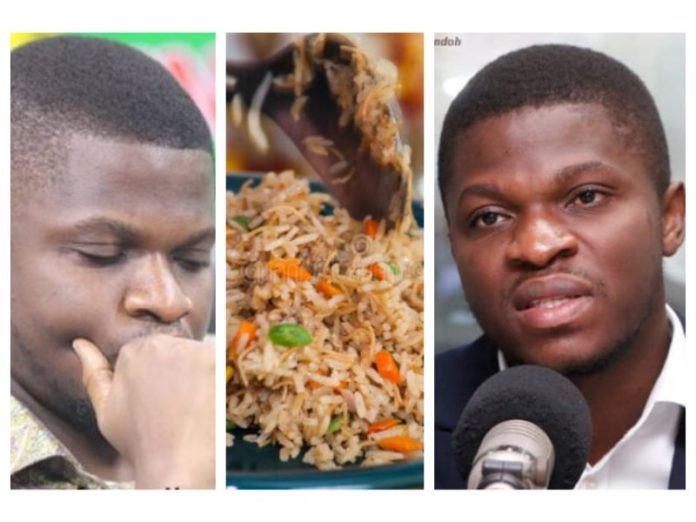 Braggart political being, Samuel Gyenfi was born into the noble family by name Genfi; thus from the family of The Late Mr Genfi, a business mogul who became famous around in the 90s in Suame-Kumasi. 
The Genfi family is popularly known in Suame an environ of Kumasi following their numerous owned luxurious hotels in the garden city and beyond though they hail from Sunyani.
On March 28, 1989, young Samuel was born that a new Genfi was called Sammy Gyamfi not being also given the family traditional name because of one reason that I will disclose as I move on.
After being born in Old Suame though he lives hails from Kumasi, young Sammy as affectionately calls in his vicinity in which they live as it comes as no surprise that the smart boy could one day grow into such an intelligent lawyer, Convenor of the Coalition for Social Justice (CSJ), and the communication officer of the largest opposition party, National Democratic Congress (NDC).
Sammy Gyamfi happens to be the brother of Brogya Genfi who was also the former Suame Parliamentary Aspirant in the Ashanti Region.
Sammy Genfi has her basic education at Living Waters International School and Glad Tidings International school.
Since her mother worked as a fried rice seller, young Sammy Genfi just after he closed his mother who was popularly known for her delicious fried rice catering service known as Pinaman's Kitchen located closer to a popular hotel in Suame, Kumasi that was owned by their family; "Hotel Swaggart"
Interestingly, Sammy Genfi after writing his BECE exams joined her mother and also became a fried rice seller too.
He had his university education at Kwame Nkrumah University of Science and Technology (KNUST) where he was very active in politics.
The outspoken politician and lawyer was not politically conscious growing up, he fell in love with politics during his first year at KNUST.
At Unity hall of KNUST Sammy was always around members of the New Patriotic Party (NDC) until he experienced discrimination and intolerance by members of the TESCON group. This made the NPP became unattractive to him.
He then joined the NDC tertiary group TEIN. Sammy won the heart of several TEIN-NDC KNUST members due to his outspoken, smartness and in-depth knowledge in politics. He was highly hailed by all. Sammy Gyamfi rose to become the President of TEIN-NDC KNUST between 2011-2012. His name was all over Ashanti region and this made the then Mayor of Kumasi Mr Kojo Bonsu appoint him as the spokesperson and public relations officer for the Kumasi Metropolitan Assembly (KMA) between 2012-2016
Mr Gyamfi has been an active member of the Communications Team of the NDC over the last ten years and has played various roles for the NDC in both the Ashanti and Brong-Ahafo Regions. He was the Communications Director of Ibrahim Mahama's Exton Cubic Mining Group.
Sammy went to the Ghana Law School where he was elected as the SRC President. He was called to the bar on 5th October, 2018.
Sammy Gyamfi contested for the National Democratic Congress (NDC) position of National Communication Officer in November 2018 where he won massively beating his contender Fred Agbenyo.