Reactions As Police Claims One Of The Suspects Linked To Uwa's Death Has Been Arrested
opera.com 8h
The death of the 100 level UNIBEN undergraduate, Miss Vera Uwaila has been trending on many social media platform since the news broke out. Many people have been demanding justice for this young lady that was brutally murdered. According to report, there was a peaceful protest in the city of Benin on Monday to demand justice for her and other rape cases. However, the Nigerian Police force, Edo state chapter has made known that one suspect has been arrested in connection to the death of this young lady. This new development has started generating reactions from social media followers. Alot of them are giving kudos to the police men while others are using the medium to encourage the police to go after the right suspects and not innocent nigerians. See some comments from the social media below;
@GreenJavena: "Thank God. All of them will soon be arrested. As long they found one, the rest will be found".
@UncleWillo: "God please don't let these people incriminate innocent people… That is the worst thing than can ever happen to someone. Let the true rapists be found and made to face the full weight of the law…"
@tosinovsky: "Telling us the latent print was obtained from the fire extinguisher and it was a match with the suspect is too good to be true, please making an innocent suffer a rape case is as traumatising as being raped. Please Nigerian Police please be sure. #JusticeForUwa".
@bryt_alozy: "The rest of them must be caught. Beasts in human form. At least, the NPF should do this for the sake of justice. First degree murder, manslaughter, homicide, rape amongst other charges".
@OfemiAdebo: "We must now be careful in this our quest for justice not to arrest and prosecute the wrong persons".
see also some screenshots from the social media followers in response to the arrest of one of the suspects.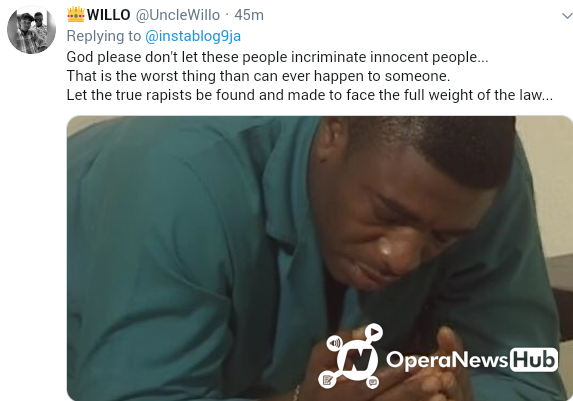 Moreover, rape is a criminal offence that should not be allowed in our community. The law makers should make more strict legislation against rapists. Ladies and women should be safe in our environment. Events like this can only make women get scared of some men in the society which is not suppose to be. I strongly believe that the Nigerian police will bring to justice the culprit in this matter.
However, this should sound a note of warning to ladies in the society. As a lady always be conscious of your safety. Avoid going to places where that are dark, or late in the night or secluded areas where nobody can see you or what is going on around you. If it is compulsory for one to go out in such manner, let there be someone beside you or go along with a younger siblings. Safety is critical. May we not experience this again in our society!
What is your thought on this latest development? Kindly comment in the box below and remember to follow my account on opera news hub.