Reactions As Lagos State Records High Number Of Covid-19 New Cases
opera.com 2d
The results if covid-19 cases released on Saturday night 30th of May, 2020 revealed that Lagos state has 378 new cases. This is the highest number to be recorded by any state in a single day. With this new number, Lagos now has 4,755 total number of confirmed cases. However, this new cases have started generating reactions from Nigerians on social media. While alot of people are showing surprises about the high numbers, others are concerns about the safety of the society. See some of the reactions from social media below;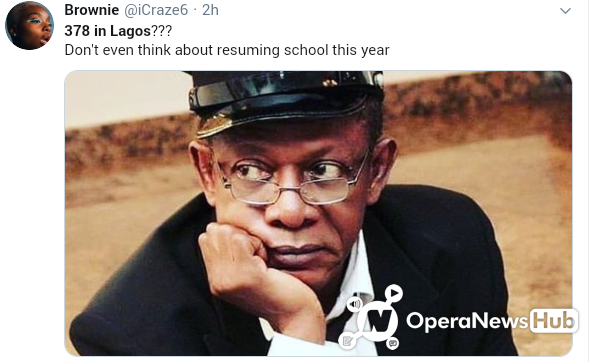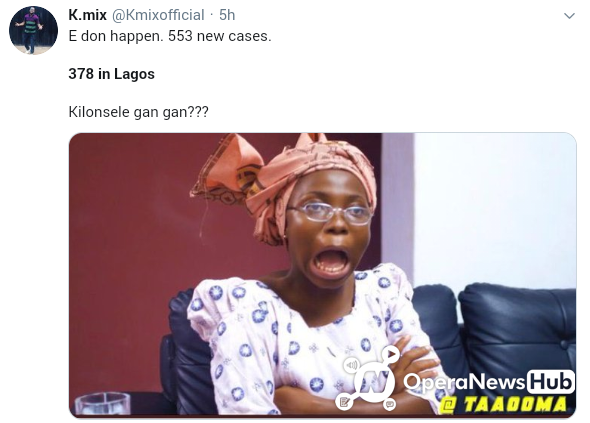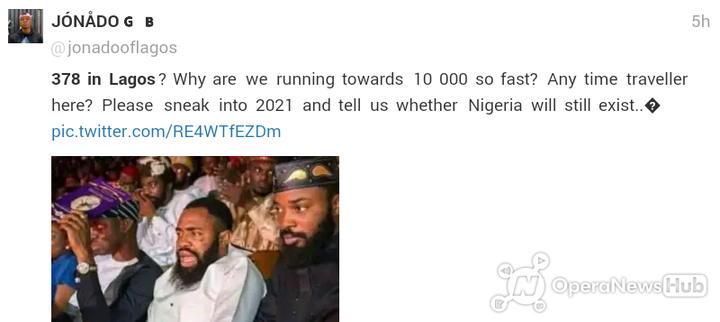 One of the Bollywood stars, odunlade Adekola also reacted to the new cases of covid-19 in lagos state. In his tweet, he admonishes Nigerians not to wait till it get to them rather keep the culture of washing hands regularly at this period. We his comment below;

According to the report of NCDC released yesterday night, 553 new cases were discovered in the country. The breakdown from the report is as seen below;
[email protected] NCDCgov: "553 new cases of #COVID19 ; Lagos-378 FCT-52 Delta-23 Edo-22 Rivers-14 Ogun-13 Kaduna-12 Kano-9 Borno-7 Katsina-6 Jigawa-5 Oyo-5 Yobe-3 Plateau-3 Osun-1 9855 cases of #COVID19Nigeria Discharged: 2856 Deaths: 273"

Moreover, the new results released by the Nigeria Centre for Disease Control has brought the total number of confirmed cases in nigeria to 9855. This signifies that coronavirus is still very much in the society and thus more precautions should be taken by everyone to ensure safety.
Lagos state is recording more cases than before, it is advisable that lagosians react to this situation by staying safe. The lockdown ease shouldn't stop residents from doing the right thing. As government keeps mentioning it that everyone should wear facemask and keep distance when in public places. Our destiny is in our hands with this results.
What do you think about this latest result from the NCDC? Share your thought and remember to follow my account on opera news hub.