How To Make Your Homemade Facemask More Effective At Reducing Transmission Of Coronavirus
forbes.com 1d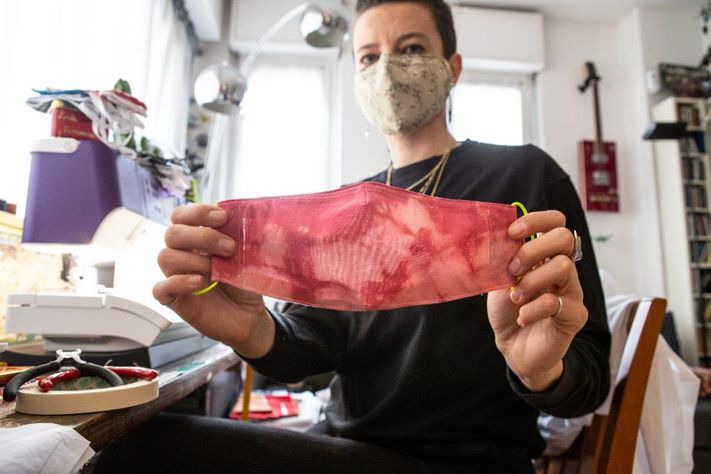 Wash-in waterproofing products based on technologies developed for the outdoor clothing industry could help tackle the coronavirus personal protective equipment (PPE) supply crisis and reduce environmental damage of disposable products.  They could also be used to increase the effectiveness of homemade face masks.
Should I wear a facemask?
The use of facemasks is becoming more widespread and required in many situations.  This week people in the U.K. were advised to wear face coverings in some enclosed spaces, Uber announced safety measures which will require drivers and riders to wear face masks, and fashion brands are stepping up to produce more fashionable face coverings.
A recent report by the DELVE group (Data Evaluation and Learning for Viral Epidemics) convened by the Royal Society suggests that "the use of face masks, including home-made cloth masks, could reduce onward transmission if widely used in situations where physical distancing is not possible or predictable such as busy public transport, shopping and other potentially crowded public or workspaces."
We need to start viewing the wearing of masks not as protection for ourselves but as our gesture of protection towards others, noting that a significant fraction of infected people will not know that they are infectious due to being asymptomatic or pre-symptomatic.  The DELVE report states that the current estimate is that 40-80% of infections occur from individuals without symptoms.
It is important to remember that wearing a mask is not a replacement for other measures such as hand-washing and social distancing.  As I discussed in my recent article on Our Differing Attitudes To Risk, we can't allow a feeling of reduced risk to allow our behaviour to become lax in other areas.  We need to wear the mask, but behave as if we're not.
As well as recommending the use of homemade face masks for the general public, DELVE also highlights that it is necessary to ensure that there are enough surgical masks and other PPE for frontline workers.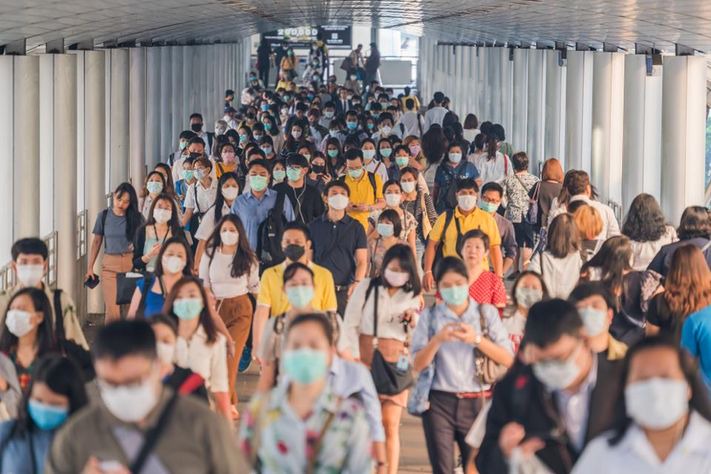 Environmental downsides of disposable PPE
There is, of course, an environmental downside to the increased need for PPE, particularly the disposable kind. On April 25 Laura Tenebaum wrote in Forbes that The Amount Of Plastic Waste Is Surging Because Of The CoronavirusPandemic.
As well as stating that much of the personal protective equipment is being thrown carelessly away, Tenenbaum added that: "An additional consequence of the COVID-19 pandemic has been that recycling and municipal waste services in the U.S. and beyond have been significantly limited, which means that the extra plastic we're now using might not get recycled."  Furthermore, the coronavirus has resulted in some rollbacks to plastic bans, which "Ocean Conservancy scientists worry… could undermine efforts to reduce single-use plastics and increase ocean plastic pollution going forward."
Fortunately, lessons can be learned from the outdoor clothing industry to both address the supply crisis and reduce environmental damage.
A water repellent barrier to infection
Disposable PPE cannot generally be washed and reused because existing hot washing methods degrade the physical structure of the fabric and destroy water repellency.  The water repellency is key to ensuring PPE forms an effective barrier against infection from bodily fluids.
Recently, professional organisations and community groups have taken the initiative to make reusable PPE gowns to support healthcare workers. But it is crucially important that they are properly cleaned to renew and maintain their bodily-fluid-resistant qualities.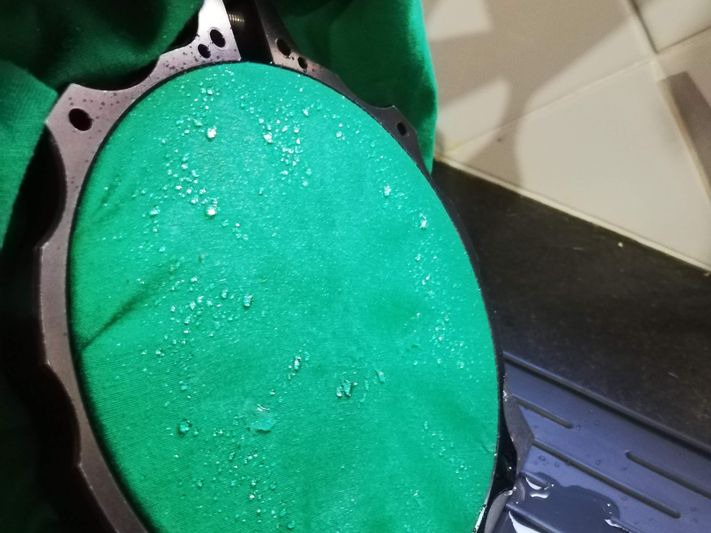 Water repellency is a key challenge in the outdoor clothing industry because waterproof and breathable fabrics are essential for comfort, but high-performing waterproof coatings are damaging to the environment.
Nikwax, the global leader in environmentally safe aftercare and waterproofing solutions that extend the life and performance of technical equipment for outdoor enthusiasts, has turned its attention to the coronavirus PPE supply and environmental crisis.
This week Nikwax launched two new products for professional use by hospital and care-home laundries—PPE Wash.Direct®and PPE Proof.Direct®.   They are designed especially for the care of PPE, including reusable and disposable masks and gowns and for all cotton and synthetic PPE.
Just like Nikwax products for washing and waterproofing outdoor clothing at home, PPE Proof.Direct® adds water repellency to clinical gowns in a washing machine. You simply run a normal washing cycle and replace the detergent with the Nikwax product.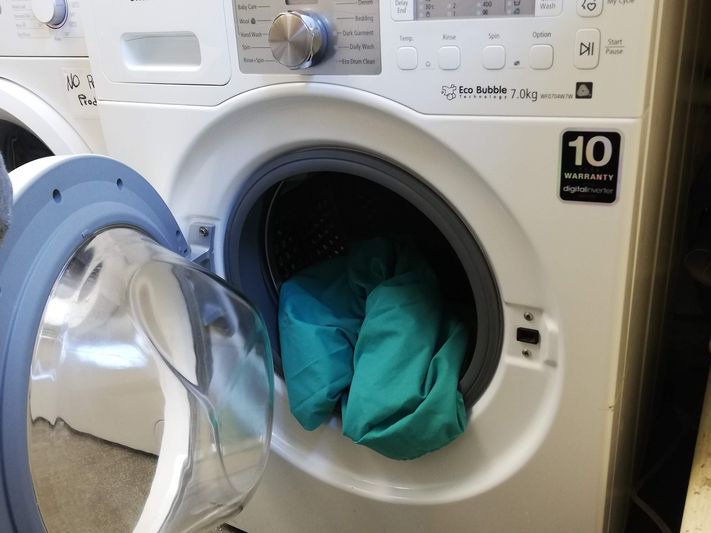 Can I improve the effectiveness of my homemade mask?
PPE Wash.Direct®and PPE Proof.Direct®are professional-only products, for professionally reusable PPE such as hospital gowns.  But I got in touch with Nikwax to find out whether I could do anything at home to add water repellency to our homemade masks, and therefore make them safer.
Tim Pickering, Head of Development at Nikwax, says: "Our suggestion for improving the performance of face masks is to wash with existing Nikwax Tech Wash followed by TX Direct (if synthetic fabric) or Cotton Proof (if cotton or linen)."  These products are available from outdoor shops or online.
Pickering noted that these original Nikwax products were designed for outdoor jackets and clothing, not facemasks, and there may be a small risk of an allergic skin reaction, as with any laundry product.
"We've screened our chemistry for safety," says Pickering, "and we believe the risks associated of breathing through a Nikwax product applied to enhance a homemade mask is significantly lower than the risk of catching COVID-19 with an un-proofed mask."
Nikwax has published its full work, methods and arguments about cleaning PPE on its website with the aim of extending the dialogue with professionals in this area.