Ageing drug smugglers who tried to sneak cannabis into the UK disguised as DOG BISCUITS are jailed
dailymail.co.uk 1d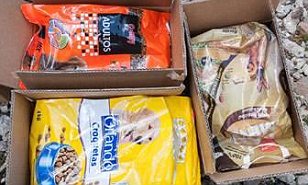 Four ageing drug smugglers who imported more than £2million worth of cannabis into the UK disguised as dog and cat biscuits have been jailed for a combined 28 years.
Brothers Kevin, 57, and John Downes, 58, Brian Chapman, 64, and 73-year-old Thomas Abrahams arranged for 747kg of cannabis resin to be delivered to a remote unit at Wallend Farm on the Isle of Sheppey in Kent.
The drugs were dropped off there on 30 September 2016 in cardboard boxes that had been shipped from Guadarrama, in Spain, via couriers DHL who were unaware of the cargo, the Old Bailey heard.
A fictional company, 'Levante European', was set up as a smokescreen to accept the consignment, which had been stuffed with hundreds of packets of pet food to mask the smell.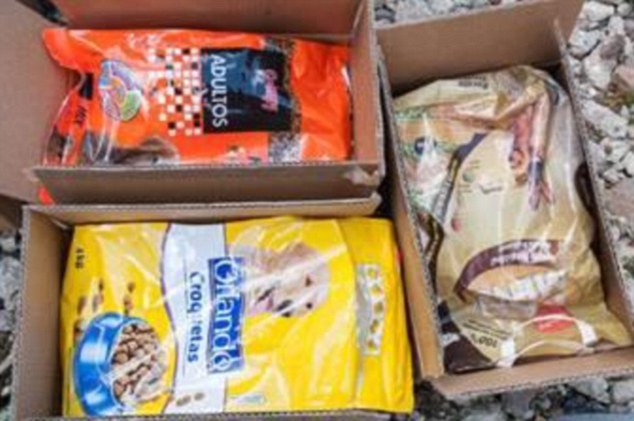 Officers from the National Crime Agency (NCA) had the farm under surveillance and watched on as John Downes unloaded the van.
He, along with his brother and Chapman were subsequently arrested while Abrahams was apprehended the following month.
The former three all admitted their involvement in the plot before the latter was convicted of the sole charge of conspiring to import class B drugs into the UK following trial back in June.
Jailing the criminals, Judge Rebecca Poulet QC said: 'The defendants' plan involved the importation into the UK of some 747kg of cannabis resin.
'This has been valued at between £1.6million and £2.1million street value, and £748,000 wholesale.
'The scheme came to fruition on 30 September 2016 when the defendant John Downes took delivery of the cannabis consignment at Wallend Farm on the Isle of Sheppey, in Kent – a remote and carefully chosen location.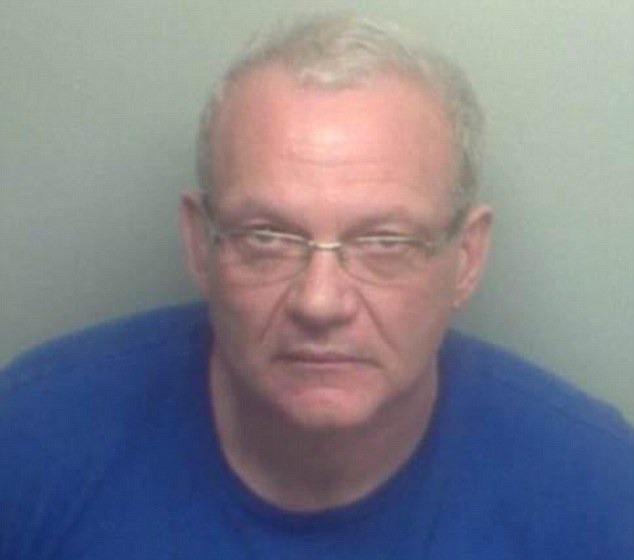 'This large consignment had been imported from Spain via couriers DHL.
'The two pallets of cannabis packages came under the cover of dog and cat biscuits.
'This, and several features of the case, suggest a sophisticated and well-thought-out plan.'
Heidi Stonecliffe, for the prosecution, explained how the haul came in under a false company name with an entirely invented individual, named Matt Alexander, attached.
An unregistered telephone number was also created while bogus business cards were printed in the month leading up to the shipment's arrival by a firm based close to where the Downes were living.
'These were found at the site of the importation and were designed to lend a further air of legitimacy to all involved,' said Ms Stonecliffe.
Judge Poulet also noted that it was clear from the messages recovered from their decrypted phones 'that other importations were planned'.
She said Kevin Downes was the 'organiser of this conspiracy' who was 'undoubtedly' planning further deliveries.
His brother was placed into a similar role, having sorted the arrangements in Kent as well as being the one who 'recruited and directed' Abrahams.
The oldest in the gang was tasked with finding a place to store the consignment, with Chapman being the 'go-between' between the brothers and overseeing the onward distribution of the drugs.
Both Downes brothers and Chapman were last convicted back in 2012 over a similar plot to import 400kg of cannabis resin and 147kg of amphetamines, again using a fake company as cover.
Kevin Downes was also jailed in 2007 for trafficking offences committed in Belgium.
Whilst serving a seven-year sentence for producing four kilos of amphetamines imposed in 1983, Abrahams was handed an extra year inside for possessing the same drugs as well as a quantity of cannabis ready to supply.
The pensioner was later jailed for nine years, in 1996, for smuggling in 148kg of cannabis resin which had been stashed inside the refrigerated unit of a freight trailer.
 That shipment had also been imported under a false company name with paperwork suggesting it was beer. 
Fake business cards for the company were later recovered from his address.
Kevin Downes, of Rotherhithe, southeast London, was jailed for nine years and ten months.
John Downes, of Bermondsey, southeast London, was jailed for seven years and four months.
Chapman, of Rotherhithe, southeast London, was jailed for five years and four months. 
Abrahams, of Minster-on-Sea, Kent, was jailed for five years and six months.
At the end of the hearing, when Kevin Downes called out to his brother who was appearing via video link, John could be heard shouting: 'Oi, Kev, f**k 'em.'
NCA Branch Commander Jacque Beer said: 'Today's sentencing marks the end of a long investigation that was undertaken over a number of months, in which we worked closely with our colleagues from Kent and Essex police.
'This is a significant disruption of an organised crime network intent on bringing illegal drugs into the UK. 
'The Downes' brothers, Chapman and Abrahams are career criminals.
'They were all seeking to profit from the misery that illegal drugs cause our communities.
'The cannabis had a street value of more than £2.1 m and no doubt the proceeds would have funded further criminality.
'We take all importations of illegal drugs seriously and this joint policing operation has prevented a substantial quantity of drugs from ending up on our streets.'