This is not the first time she has been spotted with the kids. The actress was seen bonding with the children who are are said to be from Ned's Moroccan wife at an event celebrating her husband's latest achievement. He reportedly bagged an 'Honorary Doctorate Award' from the Federal University of Petroleum Resources Effurun (FUPRE), Delta State, Nigeria.
The actress shared the photos on her Instagram page with the caption: "If loving me is a problem, then save yourself the stress. I LOVE ME"
Ever since Hon. Ned Nwoko, allegedly married his love interest lawfully, the teenage actress, Regina Daniels, rumour mongers
and naysayers have run amok. The former member of the House of Representatives, is 59 while his new bride was born in the
year 2000.
And oh yes, Regina is supposedly his 6th wife, which means she has 5 senior wives who are likely to look as her inclusion in the
Nwoko family as an intrusion. Surprising right? Recently, Regina Daniels posted photos of the brand new Mercedes Benz car her
husband , Senator Elect, Ned Nwoko, bought for her with plate number "4 EVER 16". That gesture was allegedly not well received
by one of the wives of the Delta State billionaire, Lina Nwoko. She allegedly went on to Regina's Instagram page to assault the
Nollywood on-screen character with the caption: "Your voodoo will fail you soon and my husband will collect all he has given to
you and you shall be disgrace". 
Reports that Nigerian billionaire Ned Nwoko leaked photos of his wedding with teenage actress Reginald Daniels as a "publicity
stunt" aimed at amassing himself some popularity have emerged, sparking mixed reactions from different people. It was learnt
through popular Nigerian blogger Gistmerchant that the billionaire allegedly leaked the photos to make people believe the young
girl loves him to death.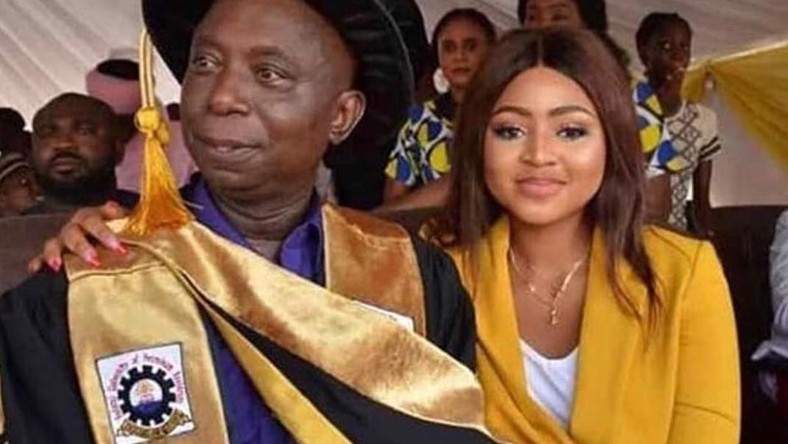 This development came days after the Regina's mother and relatives disowned the actress' biological father who allegedly
resurfaced after news of her flamboyant wedding. According to the actress' family, the man named Jude Ojeogwu did not legally
marry Regina's mom and was only back because of his hunger for money. The man, however, gave a fight through a number of
viral voice notes online, in which he revealed that he felt back-stabbed for having been placed on the sidelines during one of the
most important moments in his daughter's life.
Controversies have trailed this couple's marriage since it was brought into limelight. We can only hope all the negativity is about
to come to an end. Please share your thoughts on this with us in the comments section.