Nigerian Comedienne Helen Paul Dedicates PhD to Mom, Reveals Story of Her Birth
Helen Paul recently made history by obtaining a doctorate in Theatre Arts from the University of Lagos. She is the first Nigerian standup comedienne to achieve this dream and is a glowing example of how hard work and sacrifice leads to great rewards. In a post on social media, Paul dedicated this achievement to her mother.
Paul's convocation ceremony was held on April 4 and was attended by many celebrities, including Uti Nwachukwu, the winner of Big Brother Africa 5, and Eku Edewor the British Nigerian actress, TV presenter, and model.
The 41-year-old comedienne was glad to have the support of her loving husband by her side when she achieved this great feat.
Most importantly, in a video post, Paul dedicated this new achievement to her mother and revealed how she was conceived.
An emotional Paul wrote: "I HELEN PAUL dedicate this to my mum, you gave birth to me out of rape, they told you I wouldn't amount to anything."
She went on to add how she heard family members call her names, and each time her mother would say, "Olorun lon wo omo werey, Olorun ma wo e meaning, God watches the child of a mad person, he'd watch over you."
Paul expressed her love for her mother and wrote: "Mummy i want to know i love you, i might not buy you Benz now because i don't have a Pant yet but this certificate will amount to something great."
"They say Fame is nothing but Grace is everything and i pray for grace in everything i do, " she further added.
She concluded her heartfelt post by writing: "I dedicate this to every mother, may God make you strong enough to survive and enjoy the fruit of your labour…"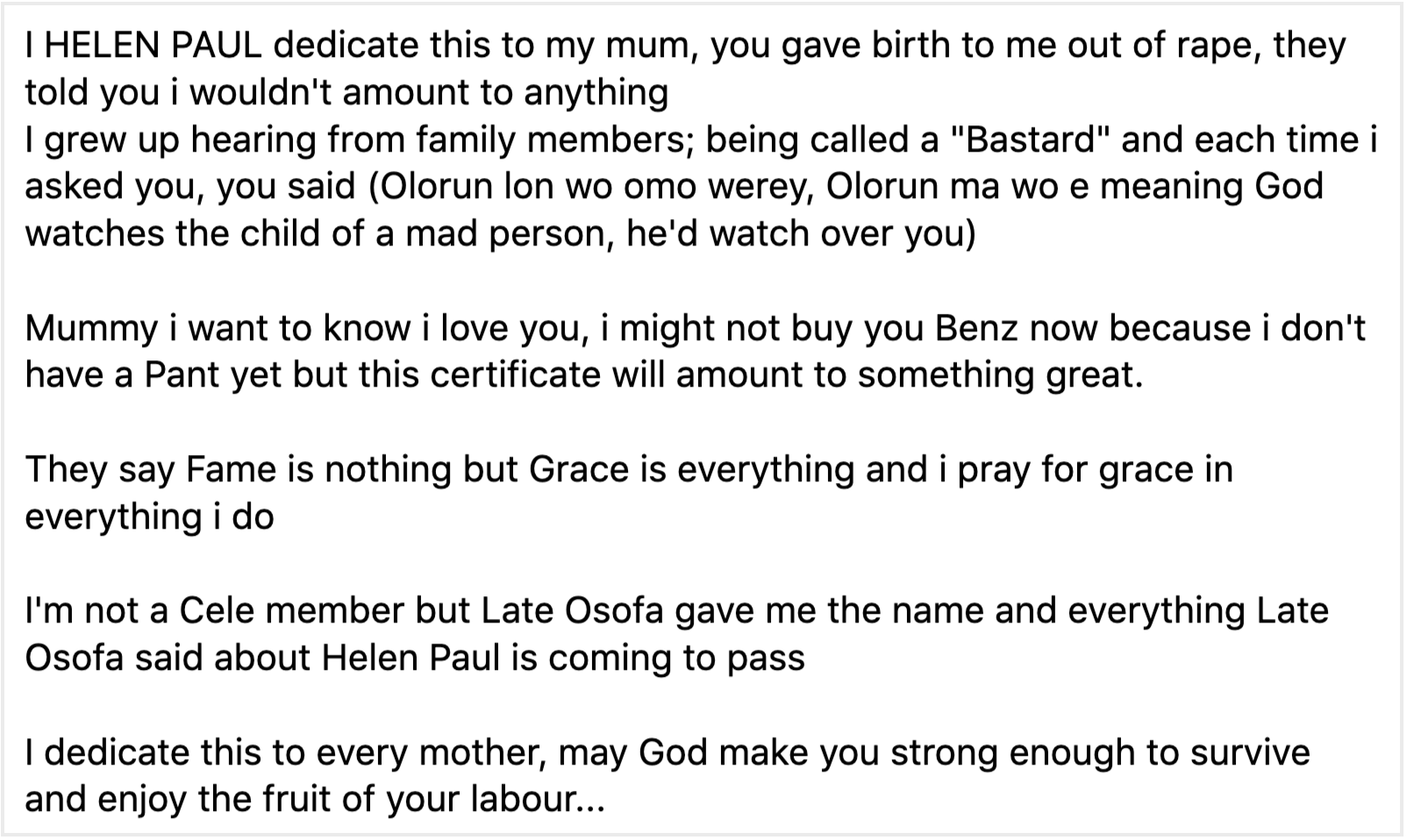 In addition, Paul also expressed her gratitude to her husband for standing by her side in order to achieve her dreams. She wrote in another post: "Thank you so much for everything and congratulations to you too, its your convocation ceremony too and you are celebrating like i am the only one…"
She added how he would let her stay at the hostel and visit her as if she were his girlfriend.
"I respect you deeply boss mei. Help celebrate the best husband, teacher, boss, father and mentor," she further continued.
Paul currently hosts Jara on Africa Magic. She has previously worked as a freelancer and full-time presenter for multiple media houses in Nigeria.
The standup comedienne broke out as a naughty comic character in a radio program called Wetin Dey on Radio Continental 102.3FM, Lagos.
The actress has also received several awards, including the 2012 African Film Awards and 2012 Exquisite Lady of the Year Award.
Congratulations Paul on your achievement! You are truly an inspiration and have shown us that anything is possible if you set your mind to it.

Thumbnail Credit: YouTube Screenshot | ApreelTV+